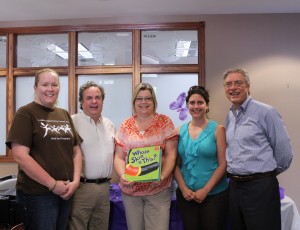 Tri-Valley Opportunity Council, Inc. would like to thank the Southern Minnesota Initiative Foundation for their generous donation of 650 books for the children and families at the South Central Area Learning Center (Winnebago), South Eastern Learning Site (Rochester) and Elysian Area Learning Center (Elysian) through the Book Start grant.
Photo left to right: Jenn Derry- Winnebago Center Manager, Bob Coughlan- Capston Publishers, Robyn Klemm- Rochester Assistant Center Manager, Laura Elfert- Elysian Center Manager, Tim Penny- SMIF President/CEO.
Photo courtesy of Southern Minnesota Initiative Foundation.